With so much of our lives spent in our homes right now, it's essential to make the most out of the space you have — especially if you're working from home or have kids attending school online. But when you live in a small space it can be difficult to fit in everything you need and still make it beautiful. However, it's important to know that living in a small space doesn't mean sacrificing style or function. It just means being more intentional with your layout and choices. In fact, it's possible to make any small space feel bigger and look amazing. Here are our top tips to get the most out of your small living space whether it's a studio apartment or a small room.
Tip #1 – Use creative storage solutions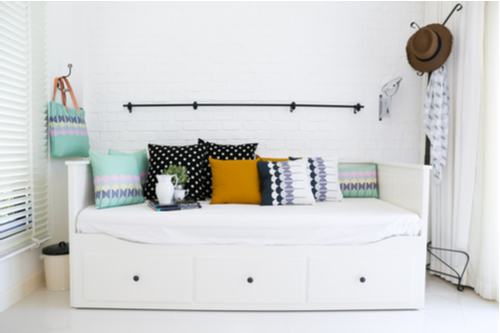 Using furniture that can serve multiple purposes is going to be the biggest bang for your buck when maximizing your small space. For example, you can choose a small day bed to use as your living room couch which can then double as a guest bed when you're hosting out-of-towners (bonus points if it has storage underneath). Use a pretty chair for your bedroom side table that can be used as extra seating when the need arises. And for those of you who are currently working from home, find a table that can do double-duty as a dining table and a desk — especially if you'll be heading back to the office in the coming year.
Tip #2 – Decorate with mirrors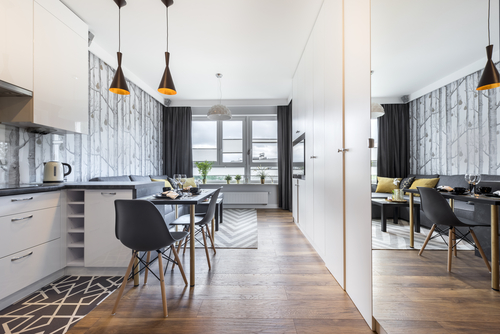 There's a reason why you'll always find beautiful mirrors inside a well-designed home. Mirrors reflect light and will make your living space feel brighter and larger. Don't be afraid to hang a large mirror in a small space because it can help create depth and will make a statement. Be careful about where you place your mirrors and take into account what image they will be reflecting. And unlike art, mirrors don't have to be hung at eye level — you can place them higher or lower depending on what you want to reflect. They can even be placed on the floor leaning against the wall.
Tip #3 – Choose multi-purpose, movable furniture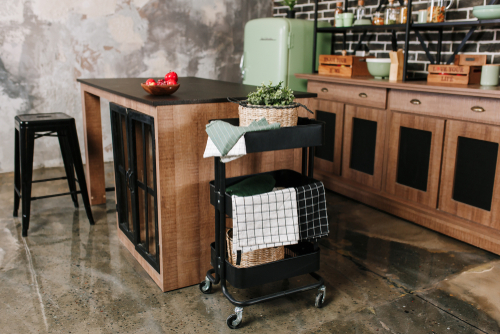 A cute cart can be a real workhorse in a small space. They can easily be moved around or tucked out of sight depending on how you use them. Use a cart for a portable bar, a kid's workstation, a crafting center, or for storing extra items in the kitchen or bathroom. They're also great for inside tight closets so you can easily pull them out to get to the items you need.
Tip #4 – Decorate vertically
[Using your wall space strategically to…. ]A small space will look even smaller if you pack it with small art. While it may seem counterintuitive, you'll make your living space feel bigger if you choose one or two statement art pieces. Big pieces of art give a room a focal point, and it helps to convey a strong sense of style. So don't be afraid to be bold with your art choices. You can even paint a section of the wall with chalkboard paint and create your own masterpiece.
Tip #5 — Stay neutral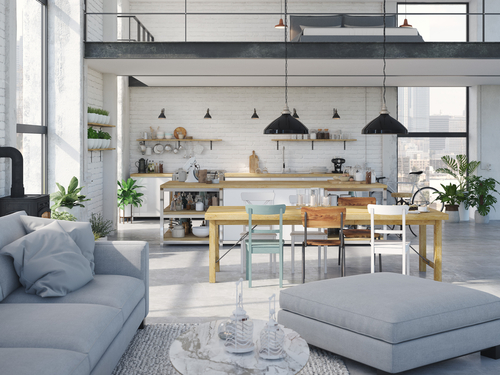 Finally, when choosing a color palette for your small space, stick with neutrals. Calm, neutral tones can make a room feel more spacious. And using the same color throughout your home can help the eye move from one space to another. You can add color and personality with your accent pieces.
Contact Keller New York today
Are you ready to buy or sell a home in 2021? Then contact the Keller New York Bronx office at 718-697-6800 or the Eastchester – Scarsdale office at 914-713-3270 today!