Does your home office leave something to be desired? We get it — many of us cobbled together a workspace when we suddenly found ourselves working from home. But now that we've been at this for some time, it's time to step-up our home office games. After all, think about how much time you spend in your home office — it's worth it to spruce it up. If you're not sure how to do that, then take a peek at this list of 7 inspiring home office ideas. Any one of these can take your home office to the next level!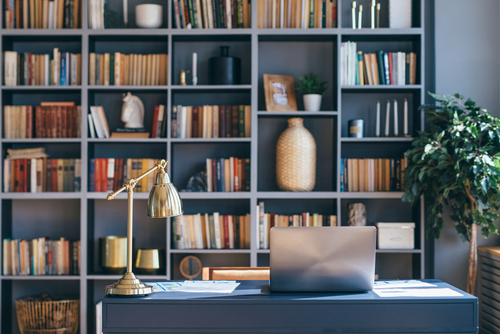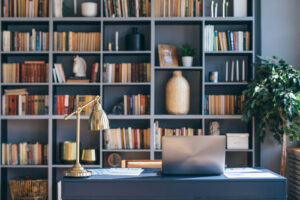 Create a mood
Is one of your top pet peeves about office life sitting inside a cold, gray box all day? Then do the opposite in your home workspace. Create a warm, calm vibe with rich hues like navy. Take it a step further and paint your shelves and desk to match the walls. Make it classy by topping off with a vintage metallic desk lamp.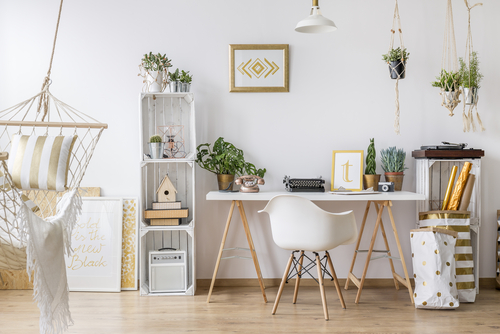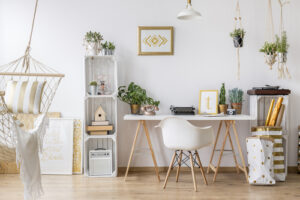 Channel some summer vibes
Hammocks aren't just for lazy Saturday afternoons. Create a laid-back summer vibe every workday by hanging a hammock in your home office! Work emails seem so much easier when you're chilling in your new "office chair". 
Delineate space with color
Even if you only have a corner of the living room, you can still have what feels like a separate workspace. Simply paint a rectangle of color on the wall as wide as your desk to create a sense of space. If you're not able to paint your walls, then you can use removable wallpaper to create the same effect.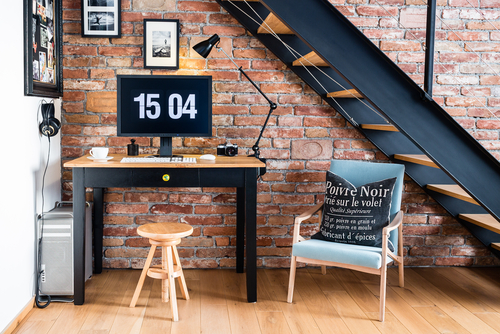 Utilize the spandrel
Did you know the space under a flight of stairs is called a "spandrel"? Neither did we! Nonetheless, for people with smaller homes or apartments, it can be tough to find a dedicated workspace. Utilize your spandrel and turn it into a cozy home office. This works especially well in open, loft-style spaces where you get plenty of natural light.
Double up
Is more than one person in your household working from home? There's no reason you can't share space with each other. Create visual harmony with matching set-ups. If you're really short on space, then you can share a long desk. This works best if your jobs don't require too many Zoom meetings or phone calls.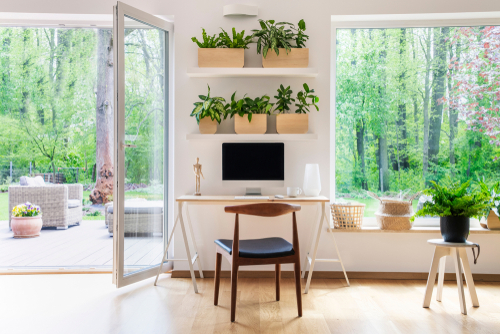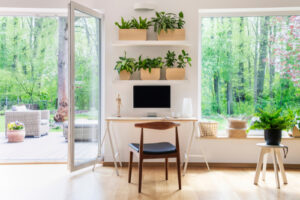 Make it zen
Nature can be so soothing. Use that to your advantage during a stressful workday by bringing the outside in. If your home has a pretty natural view, orient your desk so you can gaze at it throughout the day. However, you can create a sense of calm even if you live in the middle of the city. Simply outfit your home office with several plants so your eyes have something natural to rest on when you need a break. You can even do this if your workspace doesn't have a window — just use a grow light.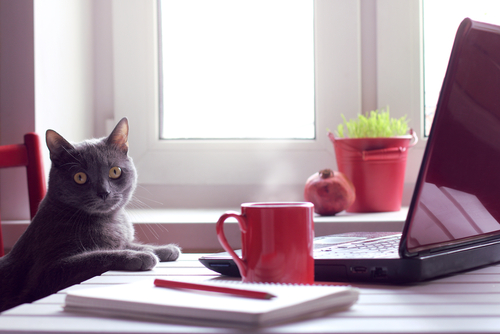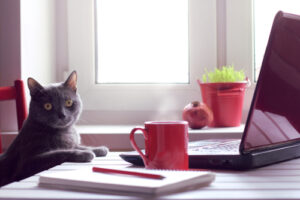 Get a co-worker
Finally, it can be a challenge to work by yourself all day. That's why getting a co-worker can be so helpful. No, we don't mean a paid assistant. We mean a pet – anything from a dog or cat to a lizard or axolotl! A new pet cat can help ease some of the loneliness you might feel working from home. And you may just find your new best friend!
Contact Keller New York today
Are you ready to buy or sell your New York home? Then contact the Keller New York Bronx office at 718-697-6800 or the Eastchester – Scarsdale office at 914-713-3270 today! We'd love to help you achieve your real estate dreams!